News & Reviews 2019
Special Edition Rosé for Stonewall

Fifty years ago this June, The Stonewall Uprising of New York is widely considered as the spark that ignited the modern LGBTQ rights movement in the United States. To celebrate such a monumental event, we would like to present a limited edition of Rosé to commemorate the 50th Anniversary of the Stonewall Inn riots. We pledge to donate 15% of the proceeds from every bottle to help support a Non-Profit LGBTQ organization in honor of the movement. Only 150 cases were produced, supply is limited, and we are proud to support this cause.
This year we selected Entre Hermanos as the recipient of our charitable contribution. Your support will help Entre Hermanos continue their mission to promote the health and well-being of the Latino gay, lesbian, bisexual, transgender, and questioning community in a culturally appropriate environment. Please click on the link above and visit their website to learn more about this amazing organization.
Stonewall Rosé will be released June 1 and offered at $25.00 a bottle. Only available at our Seattle tasting room, please contact Tioni at tioni@rotiecellars.com or call 206.359.0905 to reserve your wine.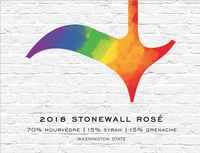 ---