News & Reviews 2015
THE STATE OF WASHINGTON'S WINES

Issue: December 31, 2015
Washington has seen a succession of wines come to the fore since the state first earned recognition in the 1980s for Merlot. By the 1990s, Cabernet Sauvignons and Cabernet blends began finding their way into Wine Spectator's annual Top 10 lists. In recent vintages, the biggest success story has been Syrah, which this year accounts for eight of the 14 wines earning classic ratings of 95 points or higher on Wine Spectator's 100-point scale.
Cabernet Sauvignon remains a major presence along with Syrah. Both categories teem with fruit-forward wines that receive a consistent lift from acidity and brightness in their flavor profiles. Since my previous report ("Washington's Sleek New Whites," Dec. 15, 2014), I have tasted nearly 950 wines from the Evergreen State in our Napa office, more than 400 of them earning scores of 90 points or higher. Cabernet and Cabernet blends account for 160 of these outstanding wines, Syrah and Syrah-based blends for another 115. (A free alphabetical list of scores and prices for all wines tasted is available.)
While Cabernet and Syrah remain strong, several other wine types are on the rise as well, producing enough compelling bottlings to make their categories worth seeking out, especially for adventurous wine drinkers. Malbec and Cabernet Franc, for years used mainly to add depth and texture to blends dominated by Cabernet Sauvignon and Merlot, are now emerging to star on their own.
On the value side, the perennial champ is Riesling. More than a dozen Rieslings in this report rate 88 points or higher and cost $20 or less, including Charles Smith's $12 Kung Fu Girl Evergreen 2014 at 89 points. At an even lower price point, Chateau Ste. Michelle scored a respectable 85 points for its $9 Columbia Valley 2014, of which more than a million cases were made.
Good luck trying to pigeonhole Washington the way New Zealand has been linked to citrusy Sauvignon Blanc, Australia to ripe Shiraz and Napa Valley to cult Cabernet. All of those regions do other things well, but none can match what Washington's vintners have achieved in terms of high quality across a range of grapes and styles.
Since nearly all of the state's grapes grow to the east of the Cascade Range, rainstorms from the west seldom interrupt the growing season and harvest. This decade in particular has seen a series of ideal or near-ideal vintages, so there's little risk right now in selecting one recent vintage over another.
Syrah is thriving in every winegrowing region in Washington. The standout AVA is Walla Walla Valley, particularly its subregion known as The Rocks, which comprises less than 300 of Walla Walla's nearly 3,000 acres. Although Walla Walla's total vineyard acreage is but a fraction of the 52,000 acres planted statewide, all eight classic-rated Syrahs in this report, along with seven of the 10 Syrahs at 94 points, come from sites in Walla Walla, a number of them from vineyards on the stones.
The geographic and geologic makeup of Walla Walla yields something distinctive. The Rocks district, an ancient riverbed strewn with baseball-sized stones, limits yields naturally, making for wines of intense flavor but moderate alcohol levels. The flavor profile often has a noticeable black olive note, and the wines typically show mineral character. The surrounding hills lie at elevations that are high enough (many of them above 1,500 feet) to preserve natural acidity and minerality while attaining ripe blue fruit flavors.
Two top-rated wines by Charles Smith's K Vintners make an apt comparison. The K Syrah Walla Walla Valley Rock Garden 2012 (97 points, $60) is dense, rich, ripe and expressive, offering a feast of plum and black currant flavors, with ripe pear, honey and floral overtones, while the K Syrah Walla Walla Valley Morrison Lane 2012 (96, $45), a higher elevation vineyard, brims with distinct wet stone and salty overtones to its rich core of plum and blackberry fruit.
Other than wines from K and Cayuse, head-turning bottlings from Walla Walla vineyards include wines from àMaurice, Gramercy, Proper, Reynvaan and Saviah, along with Cayuse proprietor Christophe Baron's two other labels, Horsepower and No Girls. Among the top-rated Syrahs from the rest of the state are the sleek Syncline Syrah Yakima Valley Boushey Vineyards 2013 (94, $35) and the broad-shouldered Dunham MacLachlan Syrah Columbia Valley Baby Bear 2011 (94, $54).
Among Syrahs produced in larger quantities, look for the Spring Valley Syrah Walla Walla Valley Nina Lee 2012 (93, $50), ripe with black plum, blueberry, apricot and smoke notes, and the Va Piano Syrah Walla Walla Valley Les Collines Vineyard 2013 (92, $65), with licorice-scented black fruit flavors. For value-seekers, Saviah's Syrah Columbia Valley The Jack 2012 (90, $18) and Hogue's Syrah Columbia Valley Genesis 2012 (89, $16) are examples of how good more modestly priced Syrah can be in Washington.
As a blending component Syrah stars in wines such as Rôtie Cellars' Northern Blend Walla Walla Valley 2013 (92, $48), winemaker Sean Boyd's homage to the Côte-Rôtie model of Syrah cofermented with Viognier. This polished style unfurls its ripe boysenberry, red plum, apricot and spice flavors without haste, coming together harmoniously on the finish.
The Guardian The Informant Wahluke Slope 2012 (92, $30), another Syrah cofermented with Viognier, delivers a core of ripe blackberry and currant fruit, while the Syncline Subduction Red Columbia Valley 2013 (90, $20) uses six different Southern Rhône varieties to produce a fleshy impersonation of Châteauneuf-du-Pape, brimming with flavors of blueberry, plum and white pepper. The Betz Bésoleil Columbia Valley 2012 (91, $45) is a sleek Grenache-based version along the same lines, with blackberry, floral and mineral notes.
Cabernet Sauvignon is still a driving force in Washington. Prices can be formidable for in-demand bottlings from standard-bearers such as Quilceda Creek, Leonetti, Cadence and Andrew Will, yet less-established labels offer an alternative, among them Native Sun, Andrew Januik and Avennia. Two exemplary labels from a pair of ex-NFL quarterbacks, Drew Bledsoe's Doubleback and Dan Marino's Passing Time, are also generating excitement at the high end.
Good examples of Cabernet at more moderate prices include standbys such as Canoe Ridge, Chateau Ste. Michelle, Columbia Crest and Waterbook, which all produce outstanding versions at $25 or less. Columbia has returned to form under new ownership since being purchased by Gallo in 2012, and a handful of new labels such as Luke and Eight Bells are also worth seeking out.
Beyond Cabernet and Syrah, Malbec and Malbec-based blends may be the most intriguing category, with nearly half of the 40 wines reviewed scoring 90 or more points. Across the board, Washington Malbec offers polished tannins and satiny textures, with flavors centering on black cherry, plum and currant, while hints of cocoa, black pepper, wet earth and tar add complexity. The plushness achieves a sense of balance that makes the wines less weighty than many serious Washington reds. The best of them show greater transparency as well.
Among the standouts, the Columbia Crest Malbec Horse Heaven Hills Reserve 2012 (92, $35) ticks off all the boxes. Supple, silky and expressive, the wine is rich in texture and blooming with black cherry, blackberry, floral and tar flavors. At the value end, a shot of raspberry flavor in Waterbrook's polished Malbec Columbia Valley 2013 (89, $14) pushes through the core of tar and spice.
State agricultural reports show that wineries pay growers more per ton for Malbec than any other grape except Grenache. Malbec produced 2,200 tons statewide in 2014, fifth among red grapes, a figure that has more than doubled in the past five years. Cabernet Sauvignon tops the list, followed by Merlot and Syrah, yet Malbec now stands just behind Cabernet Franc and ahead of Sangiovese, Petit Verdot, Pinot Noir and Grenache. Today Washington makes more Malbec than it does Viognier, Sémillon and Chenin Blanc.
Baer Winery has used Malbec as a blending grape in many of its wines, including its perennially outstanding Ursa bottling (2012: 94, $39), and plans to bottle a varietal Malbec from the 2014 vintage, its first non-blended red. A barrel sample I tasted at the winery showed an open texture and persistence on a harmonious finish. "We like the way Malbec's savory herb character integrates with the fruit," says winemaker Erica Orr. "We always put a little into Ursa, but we had more than we needed in 2014." The wine is due out in 2017.
Cabernet Franc and its attendant blends continue to impress as well, with 14 wines scoring 90-plus out of 26 reviewed. Either on its own or in a blend, the grape shows distinctive floral character and lighter texture. An outstanding example is the supple OS Cabernet Franc Yakima Valley Sonas 2013 (92, $25), with floral black cherry and blackberry notes. More widely available, Columbia Crest Gold Grand Estates Limited Release Columbia Valley 2013 (90, $12), a Cabernet Franc-Merlot blend, shows polish to its ripe black cherry and licorice flavors.
Grenache and Grenache-led blends put up similarly strong numbers this year, as 13 of 28 wines reviewed rated outstanding. The style offers a contrast to the state's beefy Syrahs. Oak plays less of a role, and the grape can achieve a more lilting style. This report's most stunning bottlings come from Christophe Baron, whose top-scoring Horsepower Grenache Walla Walla Valley Sur Echalas Vineyard 2012 (96, $115) is dark and dense yet light on its feet, layering chalk and wet rock minerality through ripe, meaty cherry and clotted cream flavors.
As Baron plants additional vineyards in his home region of The Rocks, in Walla Walla, Grenache is getting equal treatment to Syrah. "Grenache out of Sur Echalas is more in a Pinot Noir style," Baron says. "I like that. We need to plant more."
The Tenet GSM Columbia Valley 2013 (93, $70) is a bit easier to find. The joint venture between Ste. Michelle Wine Estates and Michel Gassier, the owner of Château de Nages in France's Costière de Nîmes, makes its debut with this signature blend of Grenache, Syrah and Mourvèdre, delivering a lithe and agile mouthful of blackberry, black cherry and licorice flavors.
Among the white wines from the Evergreen State, there's growing diversity as well. Chardonnay continues to account for the largest number of bottlings-about 40 percent of the 200 whites in this report-followed by Riesling, Sauvignon Blanc, Viognier and others. Refreshing in style, especially in the less-than-$20 range, Washington Chardonnay consistently offers good value.
Efforts are gaining traction to upgrade specificity and depth of character in the best examples. (See last year's report for more detail on winemakers aiming for greater expressiveness and harmony in Chardonnay.)
The first wines from Sixto—a partnership between Charles Smith and his two winemakers, Brennon Leighton and Andrew Latta—are real eye-openers. Cool-climate vineyards provide acidity to balance the ripeness. The Chardonnay Washington Roza Hills 2012 (94, $55) starts off spicy, then morphs into lime, pear and quince flavors, and the Chardonnay Washington Moxee Vineyard 2012 (93, $55) brings spicy pear and citrus flavors together with finesse on the harmonious finish. Other top bottlings include Chris Gorman's Ashan Chardonnay Yakima Valley Kestrel Vineyard 2013 (93, $45), which offers great presence, with pear, pineapple and green guava flavors on a silky frame, and Woodward Canyon's Chardonnay Washington 2013 (92, $44), glistening with flickers of lemon curd and guava around a core of pear and pineapple.
At less than $20, the Waterbrook Chardonnay Columbia Valley Reserve 2013 (90, $17) shows nutmeg and caramel overtones around a core of pear fruit, and the Charles Smith Chardonnay Washington Eve 2013 (89, $12) delivers fresh, appealing apple, pear and cinnamon spice through its lively finish.
Viognier was originally planted in Washington to coferment with Syrah, simultaneously brightening the flavor profile and darkening the color. (Rôtie Cellars' Northern Blend, mentioned above, is one example; Cayuse's Syrah Cailloux Vineyard 2012 (95, $80), containing 5 percent Viognier, is another.) Now Washington producers are using the grape to make white wines of crispness and detail. The Alexandria Nicole Viognier Columbia Valley Crawford 2014 (90, $20), for example, delivers classic Viognier flavors of spice and pear on a fresh and vibrant frame.
Second only to California in total production volume among U.S. states, Washington remains ahead of the pack in terms of making outstanding wines at affordable prices. As the range of options from the state keeps widening, the best bottles are becoming ever more distinctive. Washington wine is still gaining momentum.
Editor at large Harvey Steiman is Wine Spectator's lead taster on the wines of Washington.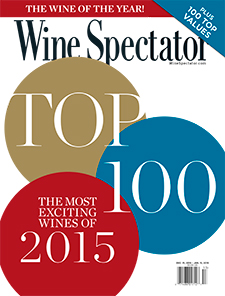 "...Syrah stars in wines such as Rôtie Cellars' Northern Blend Walla Walla Valley 2013 (92, $48), winemaker Sean Boyd's homage to the Côte-Rôtie model of Syrah cofermented with Viognier."
---
IN THE SPIRIT | THANKSGIVING WINE PAIRINGS DISH BY DISH

by Kristen Siebecker
Contributor
Wednesday Nov 18, 2015
Next to the Fourth of July, Thanksgiving is one of the quintessential American holidays. It is also one of the only food centric holidays that bring together tradition along with acceptable excess in eating and drinking.
When thinking about your wine selections, there are many terrific pairings with Thanksgiving fare. This year make it extra exceptional and go for all-American wines for your Thanksgiving spread. The timeless turkey has its centerpiece at the table, but there are so many other classic food flavors that have a perfect wine pairing. Let's travel around these United States to several different quality winemaking regions to pair with your characteristic dishes.
While all of these wines could take you from passed appetizers to pie, EDGE is here to guide you through the whole meal - sides included - with wine pairings to make it an unforgettable Thanksgiving feast:
TURKEY
Lutum Bien Nacido Vineyard, Pinot Noir, Santa Maria Valley, California, $50
The classic stalwart lean poultry is delightful with a lighter style red wine that won't overpower this mild flavored main dish. Check out this brilliant Pinot Noir from one of the best vineyards in the country located in the Santa Maria Valley of Southern California. Its fresh fruited, cherry nose and palate will sing when paired with the bird.
GRAVY
Rôtie Cellars, Northern Blend, Washington State, $48
Sometimes the turkey is just the vessel used to deliver the delicious gravy and with more robust flavors you need a bigger wine. Try something that has a bit more intensity and extraction like a plummy, dark fruited Syrah (with Viognier). This classic French Rhone style is done beautifully in the Pacific Northwest's Washington State.
GREEN BEANS
Merry Edwards, Russian River Valley, Sauvignon Blanc, California, $32
Veggies are notoriously challenging to pair with wine, but if you get something that is light enough with balanced acidity to match the herbal quality of the vegetable, you can have a blissful match. In northern California we have an esteemed Sauvignon Blanc from one of the best producers in the Russian River Valley. It showcases a light, airy citrus with just the right sensible composition of fruit to match your beans.
SWEET POTATO CASSEROLE
Ravines, Finger Lakes, Dry Riesling, New York, $18
Casseroles of any kind conjure comfort and the wine should do the same with this archetypal dish. You want something with a little more boldness to match the more scrumptious yams but the wine should remain on the dry side because this is still considered a savory dish. The heightened acidity in this wine is what will elevate the casserole and also complement the sugars and starch from the sweet potato.
CRANBERRY SAUCE
Paumanok, Cabernet Franc, Long Island, New York, $20
This dish is controversial to some and evokes coziness to others but there's no doubt it is a classic flavor of the season. For this slightly sour fruit we need something that again will tame it without hiding the tart cranberry nature. The grape Cabernet Franc is a parent of Cabernet Sauvignon, but it's leaner, not as bold, and has a bit of that fresh red fruit essence.
ROLLS
Gruet Blanc de Noirs, Sparkling Wine, New Mexico, $15
The obligatory bread, homemade fresh from the oven or heated up from the store, also has a flawless pairing on the table: bubbles! Surprisingly this wine is made in New Mexico and uses the same grapes and winemaking method as true Champagne, but it is grown in the hot sunny days and cool desert nights of the Southwest.
MASHED POTATOES
Flowers Winery, Chardonnay, Sonoma Coast, California, $45
Another textbook side on many a Thanksgiving table is the mashed potato. Specifically, mashed potatoes generally have a buttery flavor and need a softer, gentle wine like an easy-going Chardonnay with that touch of oak to match the melting in your mouth. The Sonoma Coast is the birthplace of this balanced and consistently delicious Chardonnay.
STUFFING
Adelsheim, Pinot Gris, Oregon, $19
Classic stuffing has the flavors of toast and herbs so let's put it together with an aromatic American white wine from Oregon. No oak here, just bright yellow fruits like pear in this timeless and poised Pinot Gris from the terrific producer Adelsheim. They also make marvelous Pinot Noir.
PUMPKIN PIE
Newhall Farm, Ice Apple Cider, Vermont, $23
Dessert is here! Now we are ready to dial up the sweet. The rule of thumb for dessert is that you want your wine to be as sweet (or sweeter) than the dessert; otherwise the dessert will destroy the wine flavor. But have no fear, Vermont Ice Cider is here! Newhall produces this ice cider from Vermont apples and while sweet, is not cloying, and will match your pies with perfection.

This classic French Rhone style is done beautifully in the Pacific Northwest's Washington State.
---
ROTIE WINES EXCEL IN SEATTLE MET TOP 100
2013 LITTLE G (#3 GRENACHE)
A fresh, lively grenache saw no new oak, this wine puts the focus squarely on the fruit. It's almost pinotlike in delicacy and purity, with generous raspberry and other red fruit notes along with herb accents.
2013 NORTHERN BLEND (#15 SYRAH)
A tribute to the wines of the northern region of the Rhone Valley, this offering is syrah with a pinch of viognier. It's brightly aromatic with notes of plum and orange peelthat lead to silky fruit and savory flavors.
—Sean Sullivan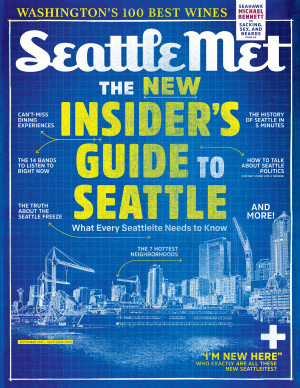 Seattle Met's Top 100 Wines for 2015 have been named and Rotie Cellars was honored with two wines making top 15; Little g at #3 for grenache and Northern Blend at #15 for Syrah.
---
THE WINE ADVOCATE | A WEALTH OF RICHES
2013 NORTHERN BLEND (92 POINTS)
Incorporating 5% Viognier, the Syrah dominated 2013 Northern Blend comes all from the Walla Walla Valley in 2013 and saw the same 14-16 months in older barrels that all the reds saw here. It has a similar savory herb character found in the southern blend, with lots of dried garrigue, olive, smoked meats, mulled blackberries and pepper emerging from the glass. On the palate, it's medium to full-bodied, elegant and supple, with bright, yet nicely integrated acidity, plenty of texture and a clean, dry finish. Drink it anytime over the coming decade.
2010 Northern Blend 92 points

2013 Southern Blend 92 points

2013 Little g 93 points

2014 Southern White 91 points

2014 Grenache Blanc
2013 SOUTHERN BLEND (92 POINTS)
Sean's Grenache dominated cuvee, the 2013 Southern Blend checks in as a mix of 75% Grenache, 15% Syrah and 10% Mourvedre that was aged 14-16 months in 2nd and 3rd-fill barrels. It's ruby/semi-opaque color is followed by lively, complex bouquet of kirsch, blackberries, dried herbs and pepper. Savory, medium to full-bodied, supple and beautifully made, it's already complex and approachable, yet will evolve nicely through 2023.
2013 LITTLE G (93 POINTS)
Made from 100% Grenache from the Alder Ridge and Gunkle vineyards, the 2013 Grenache Little G spent 14-16 months in 2nd and 3rd fill barrels. It offers lots of peppery herbs, Provencal garrigue, dried earth and mulled black and red fruits to go with a medium-bodied, rounded, nicely textured feel on the palate. Showing more kirsch and spice with time in the glass, it has solid complexity, plenty of charm and depth on the palate, and a great finish. Drink it anytime over the coming 7-8 years. 2014 Southern White (91 Points) A blend of 50% Viognier, 25% Roussanne and 25% Marsanne, the 2014 Southern White is another lively and crisp white that lots of green citrus, apple and butter citrus in a medium-bodied, lively, pretty style. Possessing racy acidity, it has plenty of texture and a balance, refreshing style. Drink it over the coming 2-3 years.
2014 GRENACHE BLANC (90 POINTS)
A blend of 100% Grenache Blanc that was brought up all in stainless steel, with no malolactic fermentation, the 2014 Grenache Blanc carries a light gold color to go with beautiful and classic notes of crisp apple, citrus blossom, honeysuckle and mint. Medium to full-bodied, ripe and layered, yet with vibrant acidity, it's a terrific white from Washington to drink over the coming 2-3 years, although I suspect it will evolve similar to a Chateauneuf du Pape Blanc and have a decade or more of interesting evolution.
A WEALTH OF RICHES
Coming off the difficult and cool 2011 vintage, Washington was dealt a trio of brilliant vintages in 2012, 2013 and 2014. Looking first at the 2012s, which make up the bulk of this report, this is a truly spectacular vintage that was consistently warm, had no significant heat spikes or rain events, and finished with a long, Indian summer that allowed producers to harvest at will. The wines are reminiscent of the decadent and voluptuous 2007s, yet are slightly more focused, streamlined and shaped by more tannic structure.

The top wines have sensational levels of fruit and are already showing beautifully. Yet the surprise is their incredible concentration (2012 has more dry extract than 2010 and 2013) and tannin levels. These are sensational, exuberant and voluptuous wines that will deliver incredible pleasure in a few years, yet also will evolve gracefully. This is certainly the greatest vintage since 2007, and one of the top vintages in the State in the past two decades. Both the Bordeaux and Rhône varieties excelled.

At the end of the day, the biggest problem for 2013 might be that it's sandwiched between the 2012 and 2014 vintages, two vintages that readily express exuberant, fruit-loaded personalities. The 2013 vintage was hotter and less even regarding heat accumulation. As a result, the wines have slightly less phenolic ripeness (I think due to the vines shutting down during the heat spikes), lower pHs, higher acidities and more focused, restrained profiles. Nevertheless, make no mistake; these are still big, powerful and structured wines that possess beautiful freshness and purity of fruit. Most don't have the depth or sheer wealth of material found in the top 2012s, yet some certainly come close to rivaling what was accomplished in 2012, 2010 and 2007.

Most of the wines are still in barrel, and short-term cellaring will be the name of the game for the top-end wines. One downside to 2013 is the quality of the whites; Chardonnay in particular struggled in this vintage. All in, I continue to be disappointed in the whites and roses from this region. A record-breaking vintage regarding heat, 2014 was a scorching hot year that some compared to 2009.Yet I think the wines show more freshness and purity, with surprising acid levels coupled with massive amounts of fruit.
My sample set is small, but this will certainly be a terrific vintage. I'll delve more into these wines next year. All the following wines were tasted between March, 2015 and May, 2015, in larger appellation tastings, domaine visits and tastings at my office in Colorado. As is becoming more common, I wasn't able to get all of the wines tasted into the report, but did my best to report on all of the top producers, as well as any up-and-coming winemakers you should have on your radar.
—Jeb Dunnuck

Jeb Dunnuck's scores for Washington are released and Rotie Cellars is honored with some vert nice scores.
---
REVIEW OF WASHINGTON WINES | JUNE 2015
2013 Rotie Cellars Southern Blend, Washington State ($48)
Here, Sean Boyd has upped the Grenache to 75%, with 15% Syrah and 10% Mourvèdre. It possesses a deep ruby color and enticing aromas of wild raspberries, blueberries, pomegranates, black currants, crushed red roses, mulberry, sweet tobacco, orange peel, anise and violets. On the palate, the red and blue fruit flavors are deliciously ripe and generous, intermixed with licorice, cocoa powder, and minerally earth. On the back, the wine turns thick and chewy, yet svelte, with notes of roasted berries and nuts, recurring dried orange peel, framboise and cassis liqueurs, followed by a burst of pomegranate juice on the lingering ripe tannin finish. Delicious from beginning to end. 19+/20 points.
2013 Rotie Cellars Northern Blend, Washington State ($48)
This vintage is co-fermented 95% Syrah and 5% Viognier. It exhibits a brilliant crimson color and an intoxicating, perfumed nose of wild blackberries, blueberries and cassis, with scents of crushed roses, bayberry, brambles, sweet tobacco, jasmine, violets, and spiced incense. The flavors are as seductive as the aromas, with rich, velvety, ripe fruits that are laced with licorice, cocoa powder, black tea, and "Rocks" minerals and earth. The back reveals sensations of pressed dark fruits, toasted nuts, framboise liqueur, and crème de cassis, all gliding effortlessly into a lingering bright fruit acid and satiny, ripe tannin finish. The vividness is extraordinary. 19.5/20 points.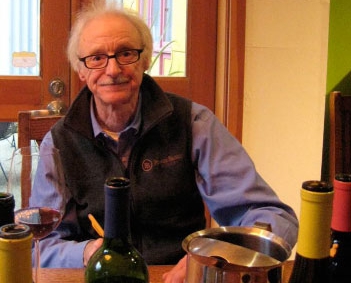 Rand Sealey reviews the new vintages of the Northern & Southern Blends
---
SEATTLE MAGAZINE | 6 EMERGING WASHINGTON WHITE WINES

By: Paul Zitarelli | May 2015
Chardonnay and Riesling together make up nearly 80 percent of white wine grapes harvested each year in Washington. Include the next six varieties—Pinot Gris, Sauvignon Blanc, Gewürztraminer, Viognier, Chenin Blanc and Semillon—and the number rises to 98.7 percent. That leaves just 1.3 percent for the whole splendid mess of Earth's other white grapes. (To put that into perspective: In a 400-page novel, 1.3 percent is only five pages.) But these miniscule margins are also the frontiers, where some of the most exciting wines in the state are being produced.

Perhaps no winery is farther out on the frontier of white winemaking than Syncline Cellars. Run by husband-and-wife team James and Poppie Mantone in the impossibly beautiful, off-the-beaten-track town of Lyle in the Columbia Gorge, Syncline produces a range of red wines, a handful of sparkling wines and exactly three whites: a Grenache Blanc, a Grüner Veltliner and a Picpoul. What those three grapes share (other than their obscurity) is a potential for making bright, lively, food-friendly white wines.

"Washington has a very generous climate," says James Mantone, which is a gentle way of saying that much of eastern Washington is too darned hot to make compelling white wines, which thrive on cooler climates, keeping alcohols moderate and acidity bright and fresh. So Syncline sought out cooler vineyard sites. Beginning with the 2008 vintage, it made Washington's first Grüner Veltliner, the fruit coming from Underwood Mountain Vineyards in the chilly Gorge. Soon after followed Grenache Blanc (2011) and Picpoul (2012) from Boushey Vineyard in a cool pocket of the Yakima Valley.

Syncline is hardly the only Washington winery taking the road less traveled when it comes to white wines. These extended tasting notes reveal a cadre of Washington winemakers joyfully exploring lesser-known vinifera and offering a tremendous diversity of tasting experiences, if we know where to look.

Paul's Picks for Emerging Whites

2014 Syncline Grüner Veltliner, $20; 2014 Syncline Picpoul, $20; 2014 Syncline Grenache Blanc, $25
May 1 marks the release of all three of Syncline's 2014 vintage whites (2013 is shown at left), and James Mantone describes each grape's individual charms as such: Grüner Veltliner, whose ancestral home is Austria, is "the funky white: fresh and bright, yet savory, earthy, herbal." Grenache Blanc, best known in the Rhône Valley in France, is "a balance of rich ripeness matched with tangy freshness; rich and tart, opposites-attract crazy goodness." Picpoul, also best known in the Rhône Valley as well as the Languedoc region of France is "fresh, lemony, juicy goodness; it's lip-smacking, eat-another-bite-of-shellfish, summer-is-never-going-to-end white wine." pairING: May is the season of the ephemeral spot prawn, so let's pair Syncline's trio with spot prawns prepared three ways: Picpoul with a limey spot prawn ceviche; Grenache Blanc for spot prawns sautéed (in the shell) with butter and saffron; and Grüner with a simple chowder made of leftover chopped spot prawns, celery and leeks, shrimp stock and cream. (Read more about spot prawns in Langdon Cook's column here.)

2013 Idilico Albariño, $15
Woodinville winemaker Javier Alfonso believes it is up to winemakers to push the envelope of Washington viticulture. "I'm an aggressive poker player, so I'm always up for some experimenting and risk taking," he explains. The native Spaniard placed his bets on Albariño, from Rias Baixas in Spain's northwest corner on the Atlantic, and the results have been outstanding. "I love Albariño," enthuses Alfonso, "for its ability to produce great, steely, high-acid, food-friendly wines: white wine for everyday drinking." Bone-dry, ultra-vibrant, awash in lemon-lime fruit and mineral, this pulsates across the palate. PAIRING: Be a risk taker like Alfonso and try to make a tangerine beurre blanc at home to top the first halibut of the season. If the sauce fails, pour yourself an extra glass for the effort.

2014 W.T. Vintners Grüner Veltliner, $20
Syncline is not the only winery to see the potential for Grüner in the Gorge. Leave it to RN74 lead sommelier and Woodinville-based W.T. Vintners winemaker Jeff Lindsay-Thorsen, who noticed that "the western Columbia Gorge's cool, windy climate and its soils mirror Austria's Kremstal region with deep loess, sandy loam and rock-laden soils." The goal of W.T. Vintners is "to craft wines of place that have synergy with food," notes Lindsay-Thorsen. W.T.'s version nails Grüner's savory character, so unusual for white grapes, with lovely green pea vine and smoky/flinty notes to go with a core of lemony fruit. PAIRING: Grüner's earthy greenness is just right for a warm French green lentil salad—maybe topped with a perfectly seared scallop or a paper-thin sheet of prosciutto.

2014 Two Vintners Roussanne, $25
Roussanne is another Rhône Valley stalwart, and this particular Washington version by Woodinville winemaker Morgan Lee comes entirely from Olsen Estate Vineyard. The grape's inherent richness—here in the form of peach preserves and marzipan—is well balanced by a sturdy mineral-acid spine, and there's a terrifically appetizing green grace note, something like celery salt. PAIRING: A luscious crab bisque, best made with double the sherry called for in your recipe to bring out Roussanne's wonderful nutty qualities.

2013 Perennial Vintners Melon de Bourgogne, $28
Mike Lempriere's quest to grow Melon de Bourgogne (the grape of Muscadet in the western Loire Valley of France) on Bainbridge Island may be the most romantic, quixotic winegrowing venture in Washington. Lempriere fell in love with the "austere mineral quality [Melon] tends to express," and he connected the climatic dots, noticing that the western Loire is "quite similar to our Puget Sound AVA: a cool maritime climate." The vines were planted in 2004, and as they complete their first decade, they're yielding wines with wonderful salty-mineral tang paired with austere, citrus-tinged fruit. PAIRING: Melon is all about subtlety, and so it goes well with oysters, that most subtle and salty of foods. To up your bivalve street cred, pair with an indigenous Olympia oyster. Raw, natch, and if you're adding anything more than a few drops of freshly squeezed lemon juice, you're blaspheming.

2013 Rotie Cellars Northern White, $32
Although the name of the wine doesn't mention it, this is 100 percent Marsanne, a grape frequently bottled on its own in the northern Rhône Valley. It combines lovely layers of fruit—pear and melon, nectarine and lemon—with floral top notes and exotic spices such as cardamom. PAIRING: Sake no shioyaki (salt-grilled salmon). This simple, umami-soaked method is explained in mouthwatering detail in Dylan Tomine's wonderful book of Northwest living and eating, Closer to the Ground. For salmon stripped to bare essentials, the traditional Pinot Noir pairing is inferior to a nice plump white like this Marsanne, which possesses both a perfect textural match for fatty salmon and a subtle flavor profile that allows the fish to remain the star of the show. The gobsmacking combination is springtime in the Puget Sound region at its very best.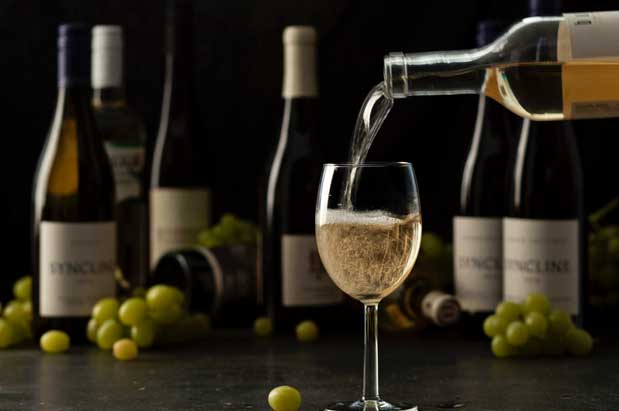 A growing number of uncommon grape varieties in Washington are transforming our white wine palate
---
WINE ENTHUSIAST | MARCH 2015
2012 NORTHERN BLEND (94 POINTS)
Editor's Choice. Don't let the Washington State label fool you. This Walla Walla Valley Rocks-region wine shows complex notes of roasted meat, blue fruit, earth, mineral, smoke and herbs. It's full bodied and rich with a dazzlingly polished feel to the fruit and savory flavors capped off by a long, meat-filled finish—beautiful stuff. — S.S. (3/1/2015)
2012 DRE MOURVÈDRE (93 POINTS)
This 100% varietal bottling brings complex notes of smoked meat, cranberry, herbes de Provence, white pepper and chocolate. It's full bodied and quite supple in feel, with palate-coating fruit and savory flavors that lead to a hyperextended finish.— S.S. (3/1/2015)
2012 SOUTHERN BLEND RED (92 POINTS)
A blend of Grenache (65%), Mourvèdre (25%) and Syrah, this suggests peppery spices, stewed raspberries, game and high-toned spices. The palate is the star, full bodied, textured and richly flavored. An orange peel accent leads to a warm finish.— S.S. (3/1/2015)
2013 SOUTHERN WHITE (90 POINTS)
A blend of Viognier (60%), Roussanne (25%) and Marsanne, this wine is moderately aromatic with notes of pear, melon, apricot and flowers. It's medium bodied with abundant stone fruit flavors, quite reserved considering the warmth of the vintage. — S.S. (3/1/2015)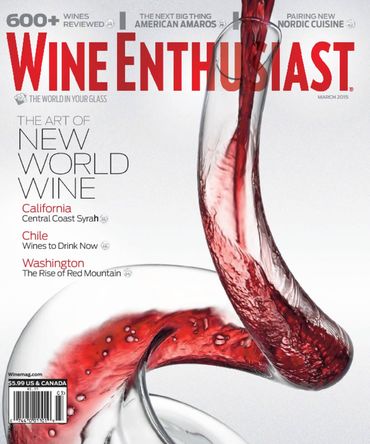 Four Rotie Cellars wines were honored byWine Enthusiast, Including a 94 for the 2012 Northern Blend which garnered an "Editor's Choice". That Vintage's Southern Blend and Dre also took top honors with a 93 and 92.